Chipotle Honey Glazed Salmon Tacos With Mango-Pineapple Salsa
It doesn't need to be Taco Tuesday to make these mouthwatering Chipotle Salmon Tacos with Mango Pineapple Salsa!  This honey chipotle salmon is baked fresh in the oven to a perfectly caramelized glaze on the outside and oh so tender flaky salmon when you bite into it. It's the perfect summertime meal!
Oh Honey Honey
An interesting fact about Honey is that it's directly affected by where the bees are sourcing their nectar from. The most common honey is Clover, it's sweet and mild with a touch of cinnamon. However, you can get really creative with your Chipotle Honey Glaze by swapping your honey for something like Alfalfa honey. Alfalfa house is created with nectar from bright purple alfalfa blossom and is light, herbal, mildly sweet, and delicate overall. There are all sorts of honey-like Orange blossom, Baker's special, and more! So get creative with your honey to give this dish a new kick of flavor.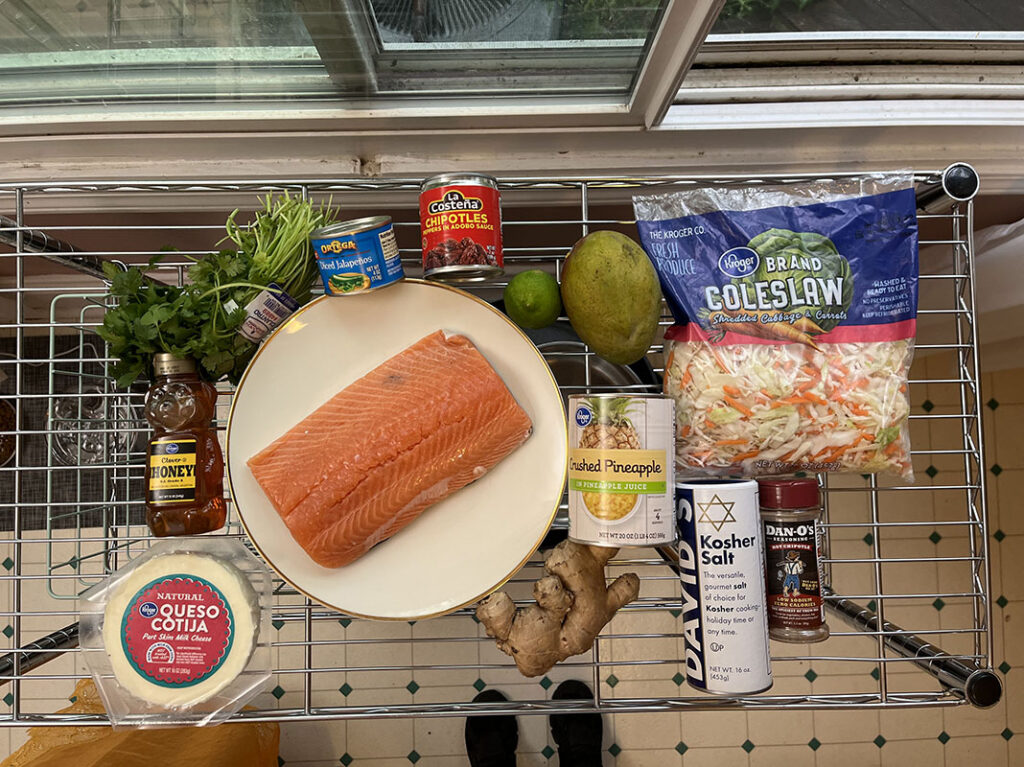 Recipe Ingredients
Salmon – A nutrient-packed protein that's easy on the palate and to cook.
Honey – The honey adds a mild sweetness to the dish overall but you can really play around with different honey varieties to get more complex flavors in your glaze. 
Cotija Cheese – An aged Mexican Cheese, it's salty and milky in taste. It's very crumbly, making it perfect for these tacos.
Dan-O's Chipotle – A kick of southwestern flavor and heat with the Dan-O's original flavor profile helps round out the flavors of this dish.
Are these Chipotle Salmon Tacos With Mango-Pineapple Salsa healthy?
Salmon is an incredibly nutrient-rich food. Low in calories, low in saturated fat, and a good source of protein. One of the best sources of vitamin B12, potassium, and other nutrients like iron and Vitamin D. Sure, you'll have a few extra calories with the Chipotle Honey Glaze but you can make up for it with low-grain tortillas and plenty of vegetables.
What to Serve With These Chipotle Honey Glazed Salmon Tacos?
You could serve these with some black beans and rice, or Mexican rice. You could also whip up some Smoked Queso to dip or pour over the tacos. You can always find inspiration for recipes in our recipes section.
4 (4-6 ounce) salmon filets, cut into bite-size chunks
1/4 cup extra virgin olive oil
1-2 tablespoons chopped chipotle in adobo
3 tablespoons honey
1 teaspoon smoked or regular paprika
1 teaspoon dried thyme
kosher salt and black pepper
warm tortillas, shredded cabbage/lettuce, and avocado, for serving
1/4 cup crumbled cotija cheese
Dan-O's Chipotle

Pineapple-Mango Salsa

1-2 jalapeños
1 cup diced pineapple
1/2 cup diced mango
1/2 cup cilantro, roughly chopped
2 teaspoons ginger, grated
1 juice of a lime (about 2 tablespoons)
Preheat the oven to 450° F.
On a baking sheet, toss the salmon pieces with olive oil, chipotle in adobo, honey, paprika, thyme, Dan-O's Chipotle, and a pinch each of salt and pepper. Arrange in a single layer. Add the jalapeños (for the salsa). Roast for 10-15 minutes or until the salmon is cooked to your liking. During the last minute, switch the oven to broil and broil until lightly charred. Set the salmon aside.
To make the salsa. De-seed the jalapeño (if desired), then chop and add to a bowl with the pineapple, mango, cilantro, ginger, lime juice, and a pinch of salt.
Stuff the avocado, cabbage, salsa, and salmon into the warmed tortillas. Top with crema (see notes) or yogurt, cheese, and additional salsa
Enjoy!