Why Chicken Thighs Are The Best Cut of Chicken?
Since the beginning, the most popular recipe on our website has been our Dan-O's Original Chicken Thighs. This is because this was the first recipe that Dan ever made with his now famous seasoning. Because Dan has been making this recipe for years, many people look to us as experts on chicken thigh recipes. Below, we just wanted to go over some of the most frequently asked questions about chicken thighs and answer them for you all!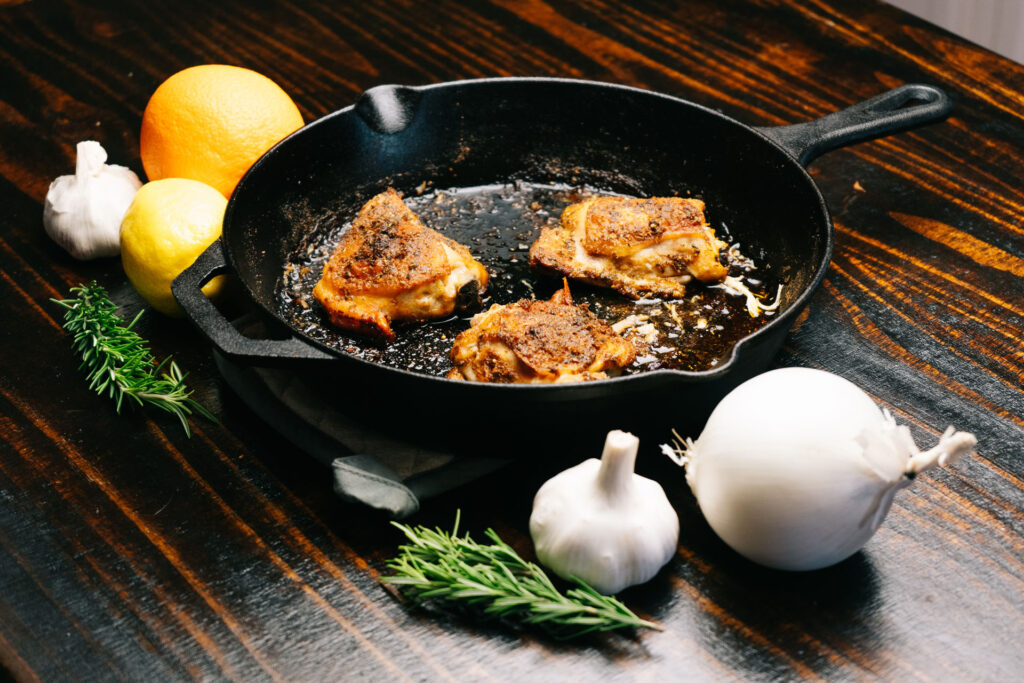 Are chicken thighs healthy?
Chicken thighs are a healthy option for dinner specially when prepared in a healthier way. A typical bone-in skin-on chicken thigh by itself is only about 200 calories and naturally doesn't have any carbohydrates. This is why our famous chicken thighs recipe is great for low-carb or keto diets because our recipe has zero carbs. All it takes to make our chicken thighs recipe is the chicken, some olive oil, and of course, some Dan-O's Seasoning. 
How long should you cook chicken thighs?
According to our recipe, you should cook chicken thighs in a cast iron skillet at 350°F for an hour and a half. 
Are chicken thighs better than breasts?
A lot of people prefer chicken thighs over breasts because chicken thighs are dark meat. This means that they are naturally more tender and in many cases more flavorful as well. 
Why chicken thighs are the best?
One of the main reasons why a lot of people prefer chicken thighs is because they are known for being more flavorful than other cuts of chicken. Other cuts of chicken are prone to getting dry when not cooked properly and they also lose their flavor when that happens. Chicken thighs are dark meat and hold more fat, therefore they retain moisture better and thus making them more flavorful. 
How to bake chicken thighs?
Preheat your oven to 350 degrees. Now, rub on a bit of olive oil and season your chicken on both sides with Dan-O's chicken seasoning. Cook your chicken thighs skin-up for 1 hour and 30 minutes. Carefully remove the chicken from the oven and Enjoy!
What goes well with chicken thighs?
There are many things that go well with chicken thighs. One go to is some roasted veggies. You can actually throw in some carrots, celery, and some chopped potatoes right in the cast iron skillet with the chicken. These will help bring everything together for a more complete meal.
Is it better to cook chicken thighs fast or slow?
Chicken thighs are usually much better cooked slow. Although you can fry some chicken thighs for a much faster result, you won't be able to retain all of the flavors from a nice slow-roasted chicken thigh. The slower roasting allows the chicken to keep its juices without drying out.