How to Make This Easy Mexican Pizza
Copycat Taco Bell Mexican Pizza
No need to go through the drive-through anymore with this Copycat Taco Bell Mexican Pizza! No more waiting for a special fast food menu to come around to get this sensational treat, this is such an easy treat to whip up when you want it. It's bound to become a favorite once you've tried it!
The nice thing about this Copycat Mexican Pizza is that you can scale it to whatever size you want. Make it small for a nice after-school snack, or make it large for a whole meal, the choice is yours. We used a lot of prepackaged materials like refried beans and salsa but if you really want to class this dish up then you can make homemade salsa, refried beans, and enchilada sauce! That'll really spruce this simple dish up.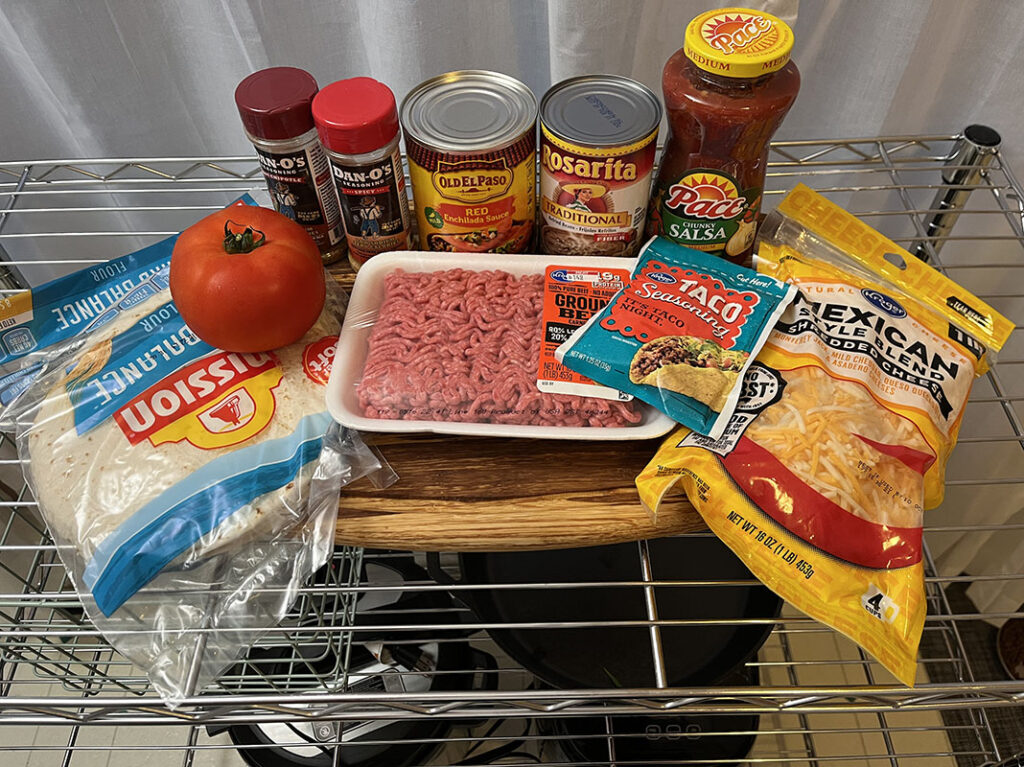 Recipe Ingredients
Ground Beef – We used ground beef on our Mexican pizza but you could use anything from ground turkey, pork, chicken, or even lamb! Get creative with it!
Red Enchilada Sauce – You can use a high-quality canned sauce or you can whip up your own homemade with relative ease for a more complex and robust flavor.
Salsa – There's a lot of different salsa for sale, even more, if you make your own, feel free to experiment with them and get different flavors going on. We personally like a Habanero or Chipotle Slow Roasted salsa!
Refried Beans – Refried beans get a bad wrap, but you can make some delicious homemade refried beans within 15-20 minutes. A little bit of work for a big boost to flavor and you can control the texture to your own personal tastes!
Dan-O's Spicy Seasoning – Dan-O's Spicy seasoning brings a little heat and a lot of flavor to your ground meat, and you can even mix some into your sauce if you wanted. If you wanna kick up the heat, bring out the Dan-O's Chipotle!
Frequently Asked Questions
"How do I tell when my ground beef is done?"
The easiest way to tell your beef is done, is when it's cooked thoroughly with no pink visible. You can check the meat's temperature with a food thermometer, you're aiming for a temperature of 160 Fahrenheit. 
"Can I use tostadas instead of baked/fried tortillas?"
You can but, tostadas are basically baked corn tortillas and we used flour tortillas in this particular recipe. That said, feel free to experiment and see what you like best!
"How do I store leftovers?"
We recommend storing it in an airtight container for up to 3 days at the latest in the fridge. They don't freeze very well, so we don't recommend that.
"How do I reheat these?"
Either microwave or you can use an air fryer or oven at 400 for 3 minutes.
½ pound ground beef
½ packet of taco seasoning about 1-2 tablespoons
⅓ cup water
spray oil
8 flour tortillas 6", taco size
1 16-ounce can of refried beans
1 cup red enchilada sauce
⅓ cup  salsa
1 8-ounce bag shredded Mexican cheese blend
1 tomato diced
Preheat the oven to 350º F. Spray tortillas with spray oil on both sides. Sprinkle with salt, prick with a fork, and place on a baking sheet. Bake for 10 minutes, then flip over. Bake until golden brown, about 3-5 more minutes. Remove from oven. Set aside to cool.
Increase heat to 400° F.
Stir together enchilada sauce and salsa. Set aside.
In a large skillet, brown and crumble the ground beef. Sprinkle taco seasoning over, then add water and stir. Bring to a boil then reduce heat. Simmer until thickened.
Meanwhile, heat up the refried beans in a microwave-safe bowl. (This will make it easier to spread the beans onto the tortilla shells.) Slather a generous layer of refried beans on each tortilla, then top with seasoned ground beef.
Place another tortilla on top. Slather about two tablespoons of enchilada sauce mixture on top, then sprinkle some shredded cheese on top of the sauce. Repeat with the rest of the tortillas.
Place the pizzas on a large nonstick baking sheet and bake for about 8-10 minutes until the cheese is melted. Serve with your favorite toppings.