Spicy and Cheesy Crab Dip
Got a party coming up but forgot to grab snacks? Don't be crabby, you can whip up this Spicy and Cheesy Crab dip in a flash! Your guests will be clawing over one another to get a taste of delectable dip. This dip is practically the best part of a crab rangoon in a dippable form. You can serve this with a variety of sides from vegetables, chips, crackers, or even bread. Changing the side can really change the dynamic of this dish without much effort on your part.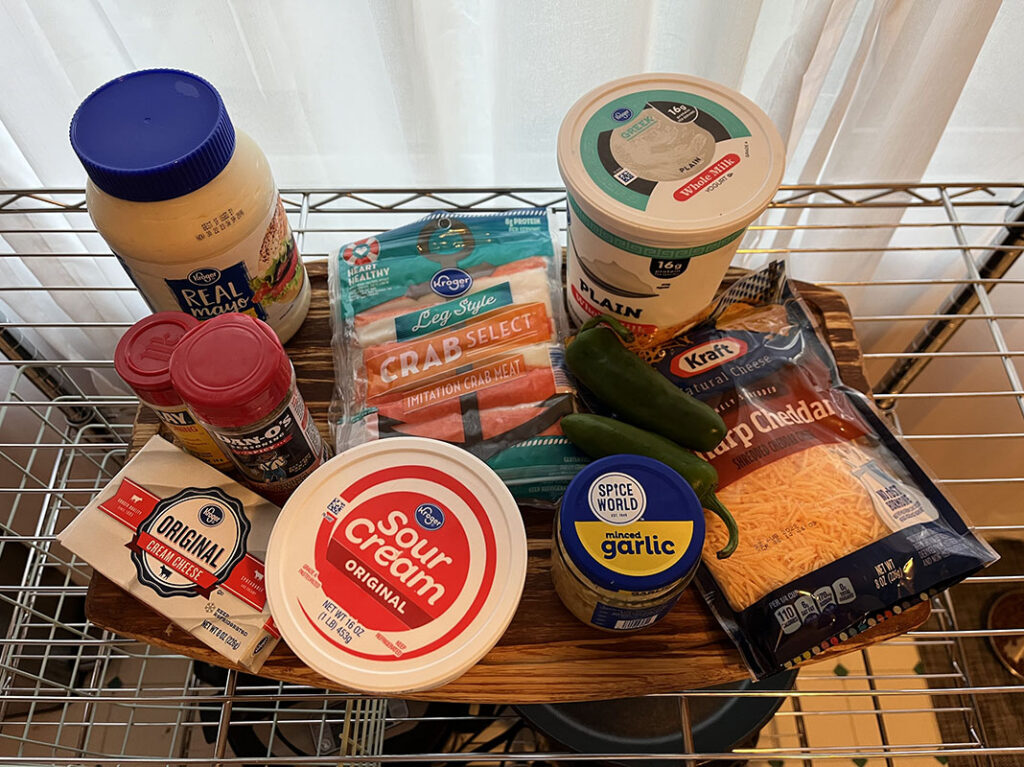 Recipe Ingredients
Crab – Our protein in this dish offers up some soft, delicate, and sweet taste. We recommend real crab,but you could use imitation crab if need be.
Sour Cream and Greek Yogurt – You could use all sour cream or all Plain Greek Yogurt if you so desire. 
Mayo – Don't use Miracle Whip, don't use low quality Mayo. Get the good stuff like Duke's or whip your own homemade Mayo.
Dan-O's Spicy Seasoning – Dan-O's Spicy adds a little kick of heat to this dish while bringing big Dan-O's Flavor to the dish. 
What to Serve With Spicy and Cheesy Crab Dip?
Like we mentioned, you can serve this Spicy and Cheesy Crab dip with a variety of things. Vegetables like carrots, celery. Or nice club crackers or ritz. You could do tortilla chips or bread,toasted or untoasted. If you don't want to use this as a dip, you could spread it like a sandwich topping or as the filling to something. 
Crab Dip Additions
You could add a bit of your favorite hot sauce to give this dip even more of a kick. You could also add in some vegetables like corn to give a crunchier texture. Experiment with some additional herbs like dill or parsley to really play with the flavors. You could also sub Dan-O's Spicy for Dan-O's Hot Chipotle.
Frequently Asked Questions
"Can I make this ahead of time?"
You can, it'll keep well in a fridge for 2 days before you bake it.
"How do I reheat leftovers?"
We recommend putting in the oven for about 15-20 minutes, or you could try to microwave individual portions for about 10-30 seconds. 
"How do I store leftovers?"
Keep it in airtight container in the fridge for up to 3-4 days. We do not recommend freezing.
12 Oz Crab (real or imitation)
2 Diced Jalapeños 
8 Oz Softened Cream Cheese
2 Tbsp Minced Garlic
1/3 Cup Sour Cream
1/3 Cup Mayo
1/2 Cup Plain Greek Yogurt
2 Cups Shredded Cheese
Dan-O's Spicy Seasoning
First, dice your jalapeño and crab. 
In an oven-safe dish, add 8oz cream cheese. To that, add your crab, jalapeños garlic, sour cream, mayo, greek yogurt, and Dan-O's Spicy. 
Give that a good stir and add 1 1/2 cup of shredded cheese. 
Mix in your cheese so it is spread out evenly throughout the dip. 
Even the top layer and add 1/2 cup more of cheese. Bake this in the oven at 375 for 20-30 minutes or until the cheese is golden brown and melty. 
Top with some green onion and serve with some toasted crackers.
Enjoy!