The Perfect Ciabatta Pizza
One bite of this ciabatta pizza will have you saying Questa pizza ciabatta è deliziosa! Perfectly crisp, loaded with your favorite toppings, and bound in savory delight with OG Dan-O's and, Dan-O's latest, Cheesoning! Cheesoning is the perfect addition to ciabatta pizza giving it the perfect cheesy goodness with all the flavor of Dan-O's you know and love. While we used sausage, banana peppers, and the sort, you could easily use any toppings your heart desires. Experiment, and really make this ciabatta pizza your own!
The History and origins of Ciabatta
In the early 80s, the french baguette was booming in popularity in Italy. Many bakers were concerned about its popularity, and its uses for sandwiches taking away from Italian breads. Because the baguette's popularity was seen as a threat to many Italian bakers, and sandwich shops at the time, many set out to make an Italian alternative. It wouldn't be until 1982 when Arnaldo Cavallari created ciabatta polesana after weeks of experimentation. Ciabatta is an oddly shaped elongated, broad, and distinctly flat white bread. It's made with a soft wet dough made from high gluten flour. The name comes from Polesine, the area in which Cavallari resided in.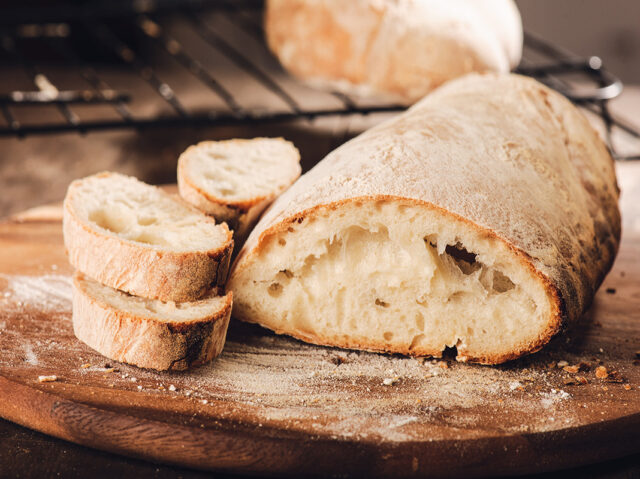 Ciabatta was a raging success, and was quickly licensed by Cavallari's company to bakers in 11 countries around the world by 1999. Since its creation, many regions have created their own spin on the original recipe. For example, Lake Como Ciabatta has a crisp crust with a soft and porous texture. While ciabatta found in Tuscany and Marche varies from a firm crust and dense crumb to a bread with a crisper crust and more open airy texture. Other variations, like those found in Rome, are seasoned with marjoram. To this day, more and more variations are created.
Ciabatta bread loaf
1 jar pizza sauce
Squeeze basil
1 lb sausage
3 banana peppers
Shredded mozzarella cheese
Extra virgin Olive oil
Brown 1 lb of sausage, and then drain grease.
Slice ciabatta bread in half, place on a baking sheet and bake at 400 for 3-4 minutes to get the top crunchy.
Combine pizza sauce and Dan-O's Original and spread on both halves of ciabatta bread.
Next spread on basil and sprinkle with Dan-O's Cheesoning.
Add your sausage, banana peppers, and mozzarella cheese.
Bake for 15 minutes at 400 degrees and 4 minutes under the broiler.
Remove and top with more mozzarella cheese and cheesoning.
Slice and serve.
Enjoy!